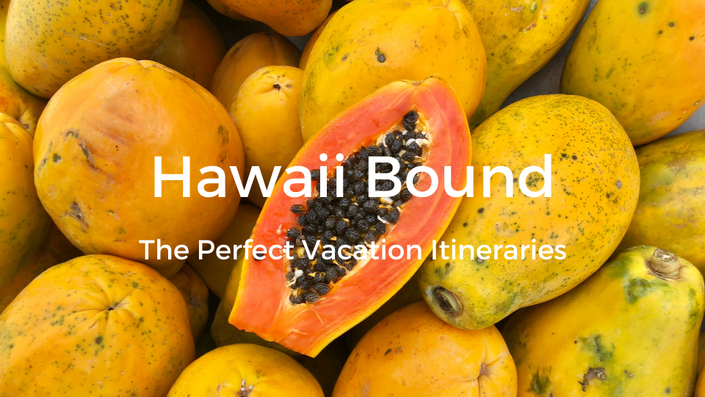 Hawaii Bound
See the best of Hawaii and still have time to chill at the beach!
What if you could see everything in Hawaii and still have time to lay on the beach and work on your tan?
Guess what? You absolutely can.
Does any of this sound familiar?
Being overwhelmed with the planning process. You probably don't even know where to start. What are the "don't miss" spots on each island? What's the best way to see them? Do you need to pay for tours or can you do it on your own?
Feeling like you want to see everything, but not knowing how to fit it in. You're coming a long way to get to Hawaii and it's expensive so you want to see everything but you also want to feel like you've had a vacation when you get back home. How are you supposed to do it all?
Not being sure how to go about planning each day. Is there a strategy for being able to see everything without backtracking? How many things can you really do in one day? Are there certain things you should do early on in your trip and others than should wait until the end? Planning an itinerary can seem like a part time job.
You're traveling a long way to get to Hawaii (and spending a lot of money) so you definitely don't want to miss anything. But you also don't want to run yourself ragged on your "vacation." The truth is, you can see it all and STILL have time to chill. You just need somebody to show you the ropes!
Take a minute and imagine if you could...
Spend time playing at Hawaii's most beautiful beaches. Find the very best ones for snorkeling, swimming, and spotting turtles and seals.
Only go on Hawaii's very best excursions. Don't waste your time (and money) on tours and activities that aren't absolutely fabulous.
Dine at some of Hawaii's most amazing restaurants. From local dives to fine dining, don't waste your money at tourist traps.
Not backtrack across the island every day. Spend your time actually enjoying the island and not in the car driving to get from place to place.
This is totally possible, friend!
Want to know the secret? Friend, meet:

Hawaii Bound!
Hawaii Bound is my custom set of Hawaii itineraries that are designed to help you see the very best of Hawaii while still having plenty of time to stop and enjoy its beauty.
I'm showing you the itineraries that I used when I had guests visiting on Maui (because I used to live there, and when you have company, you want them to see the very BEST of your home) plus itineraries for the other islands that I've tried and tested over the course of many trips and a LOT of research. I'm breaking down each day's recommended activities with extensive commentary so you'll know WHY I recommend doing certain things and what you can expect.
Like to do things at your own speed? I've got you covered! I'm also going to give you the tools and resources you need to plan your own itinerary, so you'll be able to customize an itinerary that works for you.

Itineraries for all four main Hawaiian islands (Maui, Kauai, Oahu, & the Big Island). Specifically:

MAUI

Classic Maui Itinerary: This is my preferred itinerary for first time visitors to Maui. With 6 full days on Maui, you can definitely cover the entire island (within reason ; ). This itinerary is laid out for you in a sequence that allows for adventure days and rest days. Days are broken up so you'll only be focusing on one part of the island each day. This eliminates extra driving time and maximizes fun time! This isn't just a short list of bullet points for each day. This is a detailed 13 page PDF that you can print off and take with you.
This itinerary includes:
Sunrise at Haleakala (plus an optional bike tour)
The Road to Hana
Old Lahaina Luau
Molokini snorkel trip/whale watching tour
Sea turtle spotting
Upcountry favorites (including the Ali'i Lavender Farm and Maui Wine)
Time exploring Maui's historic and most charming towns
Maui's best beaches (on the south side and west side)
and restaurant recommendations for every day
Maui Honeymoon Itinerary: This 6-day itinerary still covers most of Maui, but is tailored to couples on their honeymoon, anniversary, celebrating a special occasion, or for those interested in a "once in a lifetime" vacation. It includes a lot of relaxing beach time or time at your resort, more low key activities like a spa day, and fine(r) dining.

Maui Adventure Itinerary: This 6-day itinerary was created for those who just can't sit still and prefer to be out exploring instead of lounging around. It includes plenty of hiking, snorkeling, and some of Maui's best (and most exciting) day trips.

Maui Foodie Itinerary: This itinerary follows the classic 6-day Maui itinerary but includes SO MANY FOOD RECOMMENDATIONS. So if you're a self proclaimed foodie (or you just really like to live it up on vacation), this one is for you!

Less or More Than 6 Days on Maui: If you're shorter on time (maybe you're island hopping?), I've laid out the absolute "must dos" on Maui as well as some other advice for how to pick and choose from the 6-day itinerary. Also, if your trip is longer than 6 days (lucky duck!) I've got plenty of suggestions for how to stretch out the classic 6-day itinerary including where to spend more time plus extra things to do.

KAUAI

Classic Kauai Itinerary: This is my preferred itinerary for first time visitors to Kauai. This isn't just a short list of bullet points for each day.This is a detailed 13 page PDF that you can print off and take with you.
This 6-day itinerary includes:

Hiking the Kalalau Trail
Doing a Napali Coast boat tour
Seeing Waimea Canyon
Exploring the north shore
Spending time on the best south shore beaches
Seeing plenty of waterfalls
A luau
An optional helicopter tour
and restaurant recommendations for every day
Kauai Honeymoon Itinerary

Kauai Adventure Itinerary

Kauai Foodie Itinerary
Less or More Than 6 Days on Kauai

OAHU

Classic Oahu Itinerary: This is my preferred Oahu itinerary. This is a detailed 13 page PDF that you can print off and take with you.
This 6-day itinerary includes:
Pearl Harbor
Hiking Diamond Head
Waikiki (beaches, shopping, and historical attractions)
Exploring the north shore
Snorkeling at Hanauma Bay (plus the Halona Blowhole & Makapu'u Lighthouse Overlook)
Exploring the windward coast
Polynesian Cultural Center
An optional visit to Kualoa Ranch
and restaurant recommendations for every day
Oahu Honeymoon Itinerary
Oahu Adventure Itinerary

Oahu Foodie Itinerary

Less or More Than 6 Days on Oahu

BIG ISLAND

Classic Big Island Itinerary: This is my preferred itinerary for first time visitors to the Big Island. This is a detailed 13 page PDF that you can print off and take with you.
This 6-day itinerary includes:
Ocean Rider Seahorse Farm Tour
Snorkel/Scuba with Manta Rays
Stargazing at Mauna Kea
Hawaii Volcanoes National Park
Exploring downtown Hilo
Exploring downtown Kona
Snorkeling at Kealakekua Bay
Plenty of waterfalls
the island's best beaches (including the green and black sand beaches)
and restaurant recommendations for every day

Big Island Honeymoon Itinerary

Big Island Adventure Itinerary
Big Island Foodie Itinerary

Less or More Than 6 Days on the Big Island

PLUS

Build Your Own Itinerary: If you want to go the DIY route, I've got 5 tips for how to maximize your time and organize your activities by day. You'll also get links to all of my best posts sorted by island, which is a good jumping off point for adding things that interest you to your itinerary.

How to Make Your Own Google Map: You'll get access to printable directions (with screenshots) on how to make your own Google Maps of your itinerary.

Access to my private Facebook group: If you haven't already, you'll be able to join my private Facebook group where myself (and so many others) are always on hand to answer any of your questions about traveling to Maui.
Your Travel Guide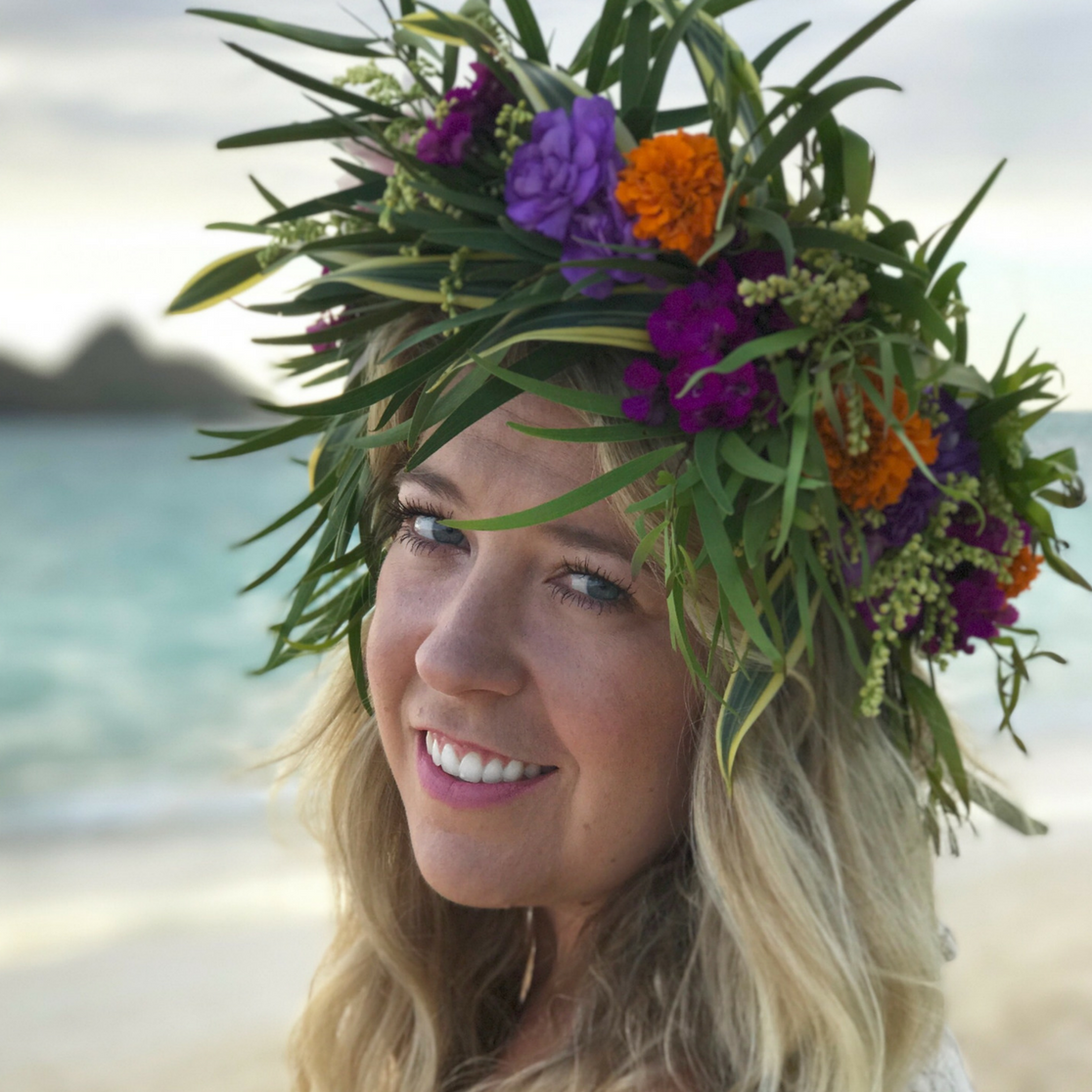 Now, who's the beach bum who created these itineraries? Aloha! I'm Cate Lincoln. I write the Hulaland blog where I've helped tens of thousands of people plan their trips to Hawaii. I used to live on Maui (and I've traveled to all of the Hawaiian Islands many times) and I love sharing my Hawaii vacation planning expertise with people.
One of the things I hear the most often is "I feel like it's a part time job planning my vacation." And that's especially true if you're trying to figure out how to see and do EVERYTHING in Hawaii. From my years of living in (and visiting) Hawaii, I've seen and done pretty much everything, so I've already done the leg work for you. You don't actually need to see everything. You only need to see the best. I'll let you know what you HAVE to do, what you can skip, and the best order to do things in. So leave your planning worries on the mainland and get ready for endless aloha.
I can't wait to share these itineraries with you! Get ready to visit my favorite beaches, eat at the best little dive restaurants (and food trucks!), stake out my favorite spots for seeing sea turtles, and hike some of the most fabulous trails in Hawaii. Actually, can I come on this trip with you? ; )

Frequently Asked Questions
Can I just find all of this info online for free?
You can find just about anything online these days! But it doesn't mean it will be much help. I'm not just giving you a list of things to do; I am laying out a day-by-day plan of what you should do with EXTENSIVE commentary and advice. I've also included restaurant recommendations according to where you'll be on the island.
How long do I have access to this product?
How does lifetime access sound? After signing up, you have unlimited access to this information for as long as you like - across any and all devices you own. You'll also get access to any updates and bonuses I create in the future.
What if I am unhappy with my purchase?
I would never want you to be unhappy! If you are unsatisfied with your purchase, contact me in the first 30 days and I will give you a full refund.
What if your itineraries include things I don't like to do?
These itineraries are designed so you can pick and choose a plan that works best for you and your travel group. The classic 6-day itinerary is designed as a basic itinerary (meaning this is what I recommend 90% of visitors see and do) and then the others are more customized to specific groups of people (honeymooners, adventure seekers, foodies, etc.) I've included what I feel to be the best of each island…for everyone. That being said, I do include alternate suggestions pretty often. For example, I recommend doing the Old Lahaina Luau (Maui) on a certain day, but I give you other evening/dinner options for that day if you're not interested in doing a luau. And while I recommend doing a snorkel excursion/whale-watching trip to Molokini and Turtle Town (Maui), I have alternate recommendations in the area if you're not a snorkeler, or if you'd rather take an exclusive whale-watching trip without the snorkeling.
What's your best itinerary to use?
While you'll get access to ALL of my Hawaii itineraries (that's for Maui, Kauai, Oahu, AND the Big Island), you'll obviously only end up using one. The classic 6-day itinerary for each island is the most optimal one to use. It's designed to help you see the best of each island while still having quite a bit of downtime. But if you're on your honeymoon or you like a bit more adventure, you'll find the perfect itinerary for you!
Still not convinced? Here's what a few travelers have said: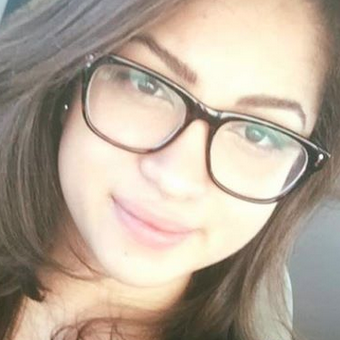 Since I started researching and planning my trip the excitement and stress has been overwhelming! There is just soooooo much information out on the interweb. The more I searched, the more questions I had. Do we want to island hop? What are must dos on our trip? Would we both enjoy the same activities? To Luau, or not to Luau? Volcano, or no volcano? Where to stay, what to do? Where to eat? ... you get the point. I want to make sure I plan a budget friendly, and adventure filled vacation, but I didn't know where to begin. Then I found your blog. It was so simply laid out for me. It answered so many of my questions, and eased my stress level. All of your posts have been so helpful. I'm only just starting to plan my trip, but I feel so much better about successfully planning a memorable trip thanks to your blog! - Lili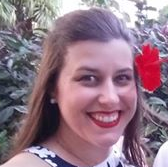 I was planning a trip to Kauai for Thanksgiving with my boyfriend and it was going to be a new island to explore for the both of us. In doing some research, I came across your blog. I really enjoyed reading your posts about where to eat. We tried Tidepools, the Hukilau Lanai, Tahiti Nui, and the Lava Lava Beach Club. All great! We had booked our reservation at the Kauai Shores, and I was regretting choosing that one over its sister hotel a little further south. But then I saw that you had stayed there, and you allayed my fears when I asked you about it, and you said it was fantastic. It was! We loved it, the people, and the location right on the beach. Last, but not least, I was on the fence about doing a helicopter tour of the island. However, after reading your post (and seeing your pictures!), I was SOLD! And I'm so glad we did! It was truly the highlight of the trip, and I'm thankful for your review in pushing me to do it.So thanks for all the timely info! It was very helpful, and got me that much more excited for our trip! - Andrea

Do yourself a favor. Stop stressing yourself out trying to plan the perfect itinerary and snag these Maui itineraries today! You'll be so glad you did.