Hawaii Dreamin'
Everything you need to know about how to plan the perfect trip to Hawaii including itineraries for all the main islands.
What if you could easily plan the Hawaii vacation of your dreams without second guessing every decision?

Here's a secret: you can!
Skeptical? Read on.

Does any of this sound familiar?
Being overwhelmed with the planning process. You probably don't even know where to start. Which island is the best one? What are flights to Hawaii supposed to cost? How do you find the best deals? If you go with that cheap condo, are you going to regret it? I'm guessing that planning your vacation has you totally stressed out.
Not knowing what's worth it and what's not. Is it worth it to pay more for certain flights? If you're going to splurge on a nice beach resort, which one is the best? Is a helicopter tour really a must do? And if you decide on a luau, which one is the best? It's hard to know what's worth the money and what's not when you've never been to Hawaii before.
Feeling like planning your vacation is a part time job. How the heck are you supposed to have enough time to do all of this research and make these decisions? This is supposed to be a vacation! It shouldn't be this much work.
Does any of that have you thinking "is she reading my mind???" Good. You're in the right spot.
Take a minute and imagine if you could...
Pick the best time of year for your Hawaii vacation. Whether you're looking for the cheapest time, the best weather, trying to see the humpback whales (or hit all three!), there's a perfect time to go to Hawaii for that!
Choose the perfect island to visit. Depending on your vacation style, I'll help you find the island that matches it best to make sure that your "idea" of Hawaii actually matches the reality.
Find accommodations that you will LOVE. Wake up in paradise every morning whether that means a fancy beach resort, oceanfront condo, or cozy Airbnb.
Book the best flights to Hawaii. Learn the tricks to finding the cheapest airfare to Hawaii, but also choose the flights that offer the best bang for your buck (i.e. fewer and better connections).
Get to see the very best of Hawaii. Put together an itinerary for your trip that lets you see the best of Hawaii while still having time to chill at the beach!
This is no dream friend. You can make it happen!

I want to introduce you to the ace up my sleeve:

Hawaii Dreamin'!
Hawaii Dreamin' is a step by step blueprint where I'll teach you my highly effective system for planning trips to Hawaii so you can stop worrying about all the big decisions and tiny details and just enjoy your vacation.
Learn ALL the strategies I personally use to plan and book my trips to Hawaii-strategies that will make sure that your vacation suits YOUR travel style and not somebody else's. I'm getting ready to hand over the information you need to plan the best trip to Hawaii possible.
And the best part? I'm going to show you an exact system for doing this. I'm not just going to dump a bunch of "tips and tricks" on you and leave you to sort it all out for yourself. From start to finish, I'm going to show you how to plan the Hawaiian vacation of your dreams.
Trip Planning Timeline: If you're feeling stressed out and overwhelmed at the thought of planning a huge vacation like this, this timeline will be invaluable to helping your break in down into manageable pieces so you know what you need to book and when.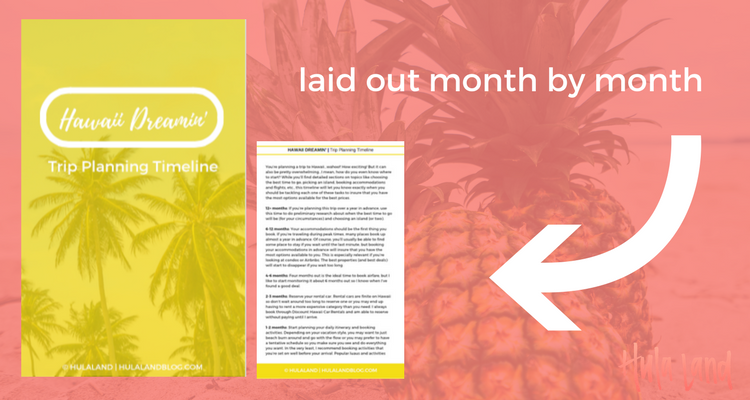 When is the best time to go to Hawaii? This 7-page PDF guide breaks down the best times to go to Hawaii in terms of weather, crowds (and prices), and whale season. I'll break down the major tourist seasons in Hawaii to help you find pockets of time when the crowds aren't there, the prices drop as, and the weather is perfect. I'll also let you in one some of my favorite times of the year to go to Hawaii. Hint: there IS a perfect time of year to go to Hawaii and no, it's not anytime.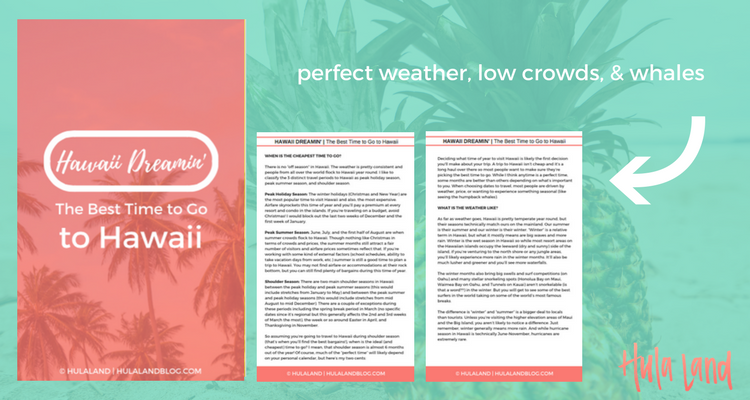 Which island(s) are the best to visit? This 10-page PDF guide breaks down what to expect on each island including popular attractions, a general lay of the land, and pros and cons of each island to help you decide which one will be the best fit for YOUR vacation. I'll also give recommendations for which islands I think are best for honeymooners, traveling with kids, your first visit, for hikers, for culture and history, and for adventurers. Plus, I'll give you the lowdown on island hopping including how it works, the minimum amount of time you should spend on each island, and which islands pair well together.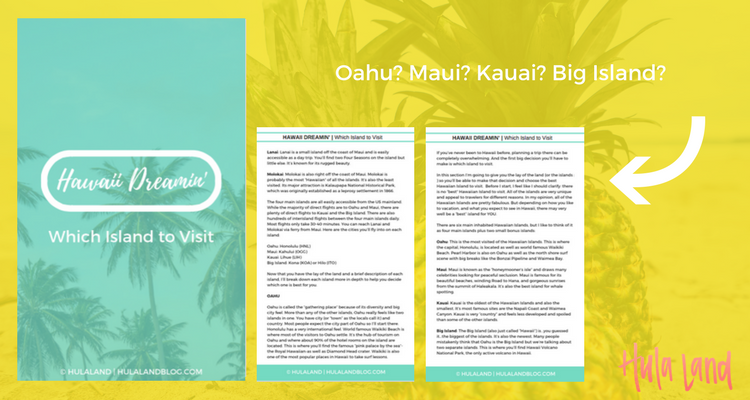 Where to Stay in Hawaii: This 23-page PDF guide has EVERYTHING you need to know about deciding where to stay in Hawaii. In addition to my famous "lay of the is(land)" guides that will help you figure out which part of each island sounds like the best fit for your vacation, I'm giving you my 2 cents about where I like to stay on each island. I'll also break down the different types of accommodation options that you'll find in Hawaii (giving pros and cons of each) plus provide links to my favorite specific properties (at all price levels) on each island.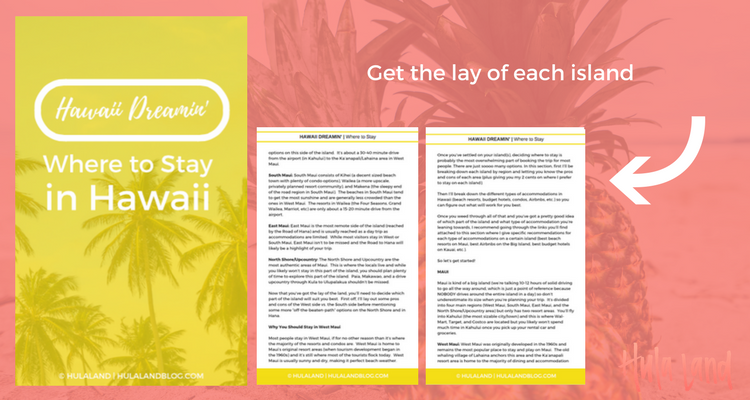 Booking Airfare to Hawaii: This 7-page PDF guide shares 9 important things you should know before you start even looking for airfare, my six step process for finding and booking the cheapest airfare, plus lets you in on a few circumstances where I think it's worth it to pay more.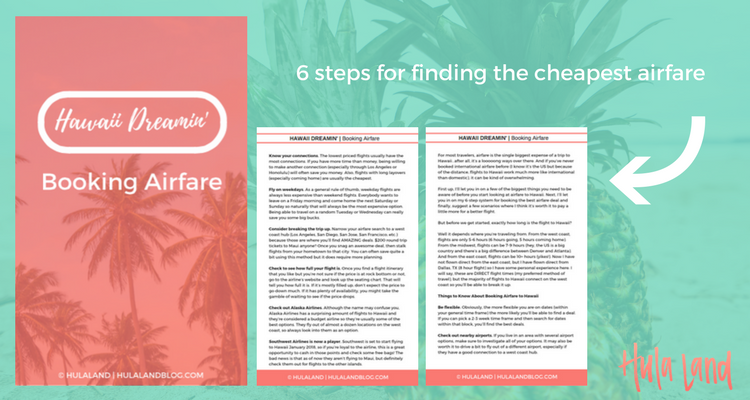 Renting a Car: This 5-page PDF guide definitely answers the question "do I need to rent a car?" for both Oahu and the outer islands. I'm breaking down the public transportation and Uber/Lyft situation as well as sharing which company I ALWAYS rent from. I'll also share 6 things you should know about renting a car in Hawaii.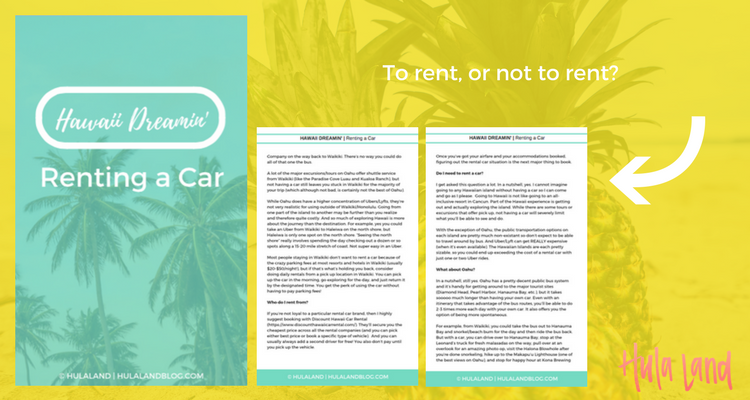 How to Plan Your Days: This 7-page PDF guide is what will help make your vacation truly perfect. I'll share my 5 tips/steps for how I create a daily itinerary that maximizes my time and organizes my activities by day so I can see and do everything I want and still have time to relax at the beach.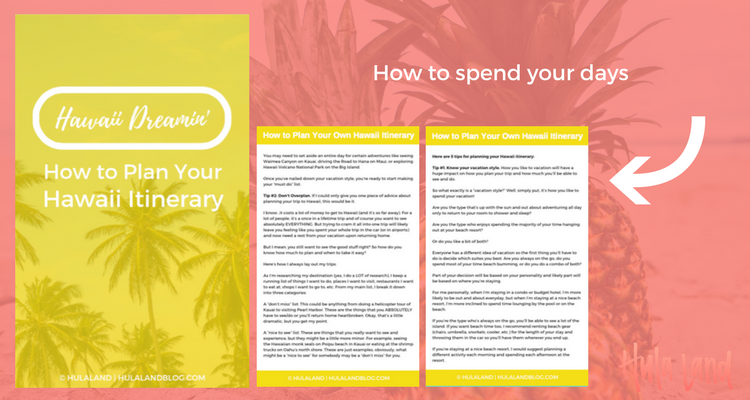 How to Make Your Own Google Maps: This 3-page PDF guide features printable directions (with screenshots) on how to make your own Google Map of your itinerary.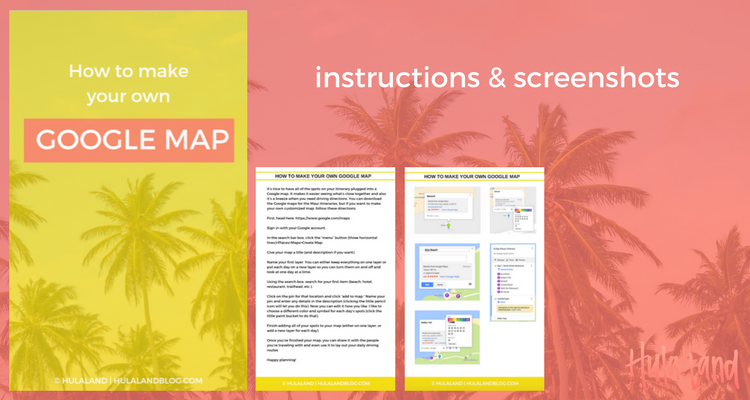 What to Pack: This 4-page PDF guide answers the last minute question "what do I pack?" I'll give you the run down on weather, island style, plus what you can expect in the way of shopping in Hawaii. Besides the beach basics, I'll also give you some advice on things you might not think to pack. You'll also get a printable packing checklist.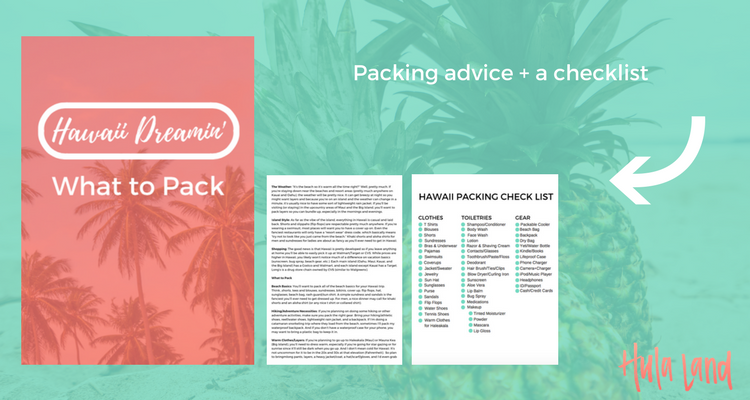 Maui Itineraries: You'll get access to my popular Maui Bound itineraries (3, 4, 5, and 6-day itineraries) to use if you want to go with a tried and true plan. While I offer abbreviated versions (3, 4, an 5-days) if you're going to be island hopping, with 6 full days on Maui, you can definitely see the entire island. This itinerary is laid out for you in a sequence that allows for adventure days and rest days. Days are broken up so you'll only be focusing on one part of the island each day. This eliminates extra driving time and maximizes fun time! The 6-day itinerary includes sunrise at Haleakala (plus an optional bike tour), the road to Hana, Old Lahaina Luau, Molokini snorkel trip/whale watching tour, sea turtle spotting, upcountry favorites (including the Ali'i Lavender Farm and Maui Wine), time exploring Maui's historic and most charming towns, Maui's best beaches, and restaurant recommendations for every day.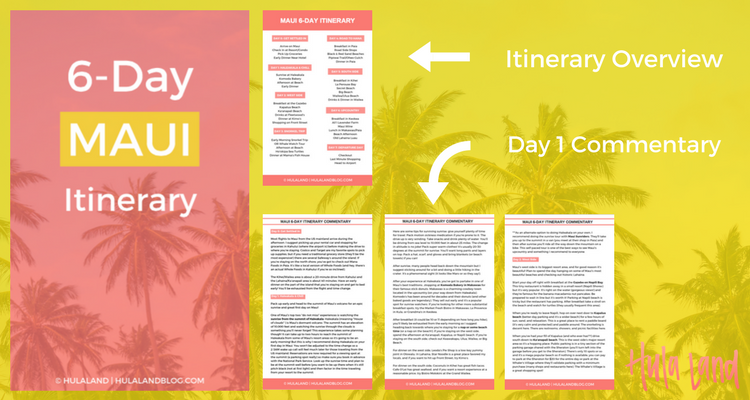 Kauai Itineraries: You'll get access to my popular Kauai Bound itineraries (formatted similarly to the Maui itineraries above). The 6-day Kauai itinerary includes hiking the Kalalau Trail, doing a Napali Coast boat tour, seeing Waimea Canyon, exploring the north shore, spending time on the best south shore beaches, seeing plenty of waterfalls, a luau, an optional helicopter tour, and restaurant recommendations for every day.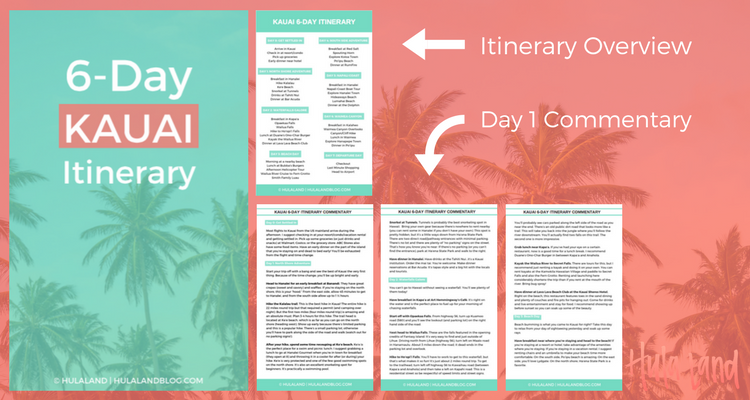 Oahu Itineraries: You'll get access to my popular Oahu Bound itineraries (formatted similarly to the Maui itineraries above). The 6-day Oahu itinerary includes Pearl Harbor, hiking Diamond Head, Waikiki, exploring the north shore, snorkeling at Hanauma Bay, exploring the windward coast, the Polynesian Cultural Center, an optional visit to Kualoa Ranch, and restaurant recommendations for every day.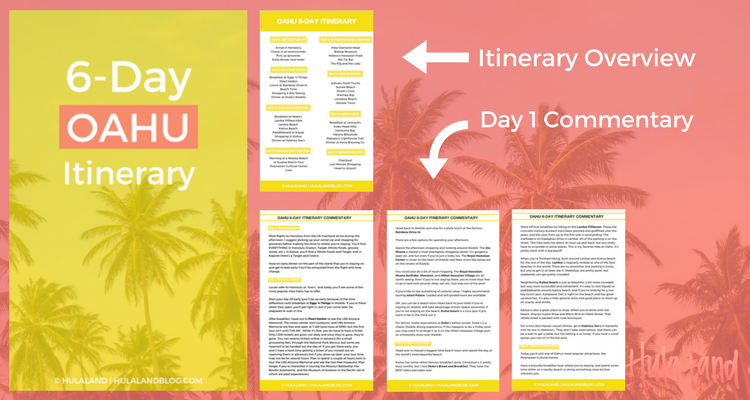 Big Island Itineraries: You'll get access to my popular Big Island Bound itineraries (formatted similarly to the Maui itineraries above). The 6-day Big Island itinerary includes Hilo, Hawaii Volcanoes National Park, Kealakekua Bay, Ocean Rider Seahorse Farm, Akaka Falls, black and green sand beaches, Waimea and Waipio Valley, an optional visit to Mauna Kea summit and night snorkeling with manta rays, and restaurant recommendations for every day.

Your Instructor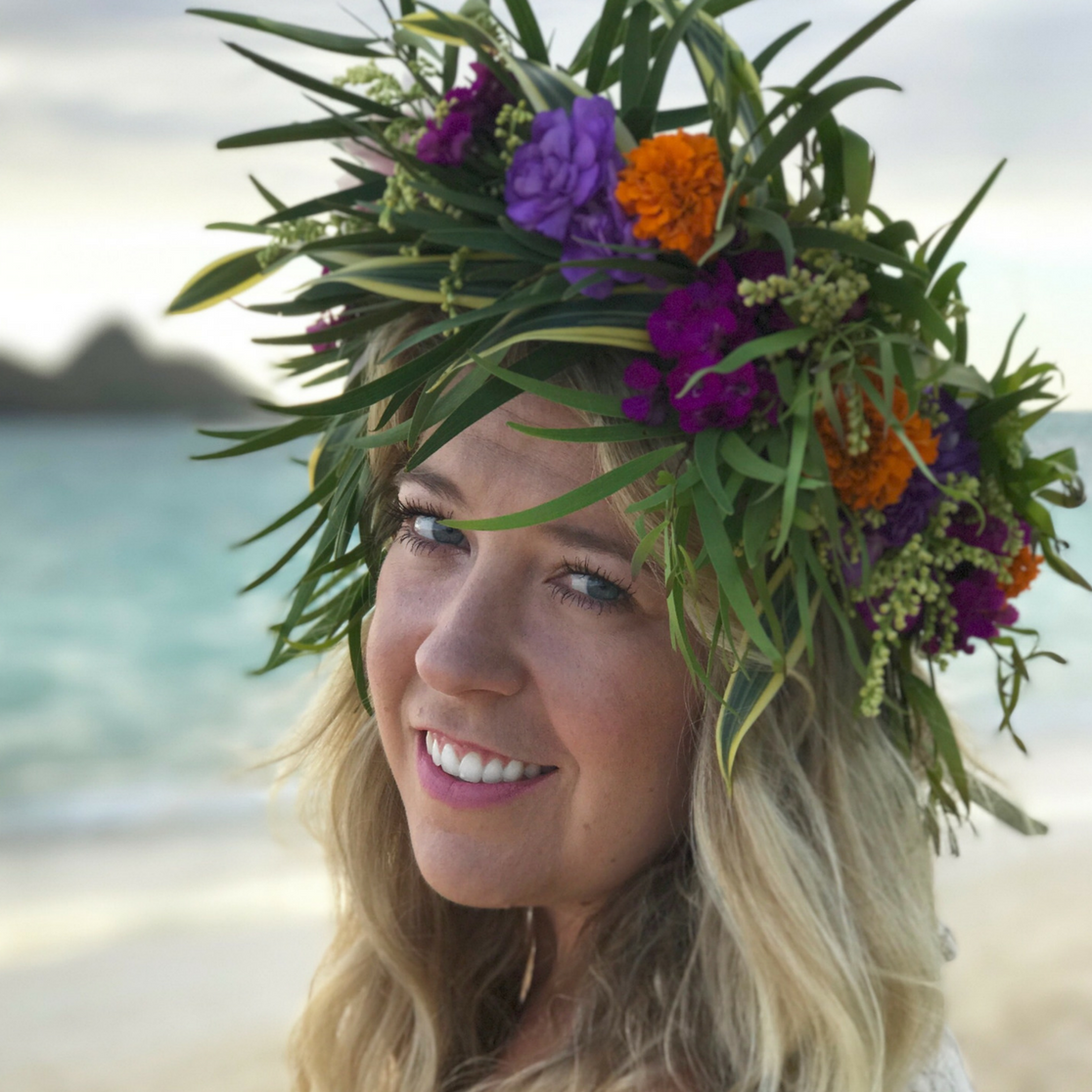 Now, who's the beach bum who created these itineraries? Aloha! I'm Cate Lincoln. I write the Hulaland blog where I've helped tens of thousands of people plan their trips to Hawaii. I used to live on Maui (and I've traveled to all of the Hawaiian Islands many times) and I love sharing my Hawaii vacation planning expertise with people.
One of the things I hear the most often is "I feel like it's a part time job planning my vacation." And that's especially true if you're trying to figure out how to see and do EVERYTHING in Hawaii. From my years of living in (and visiting) Hawaii, I've seen and done pretty much everything, so I've already done the leg work for you. You don't actually need to see everything. You only need to see the best. I'll let you know what you HAVE to do, what you can skip, and the best order to do things in. So leave your planning worries on the mainland and get ready for endless aloha.
I can't wait to share these itineraries with you! Get ready to visit my favorite beaches, eat at the best little dive restaurants (and food trucks!), stake out my favorite spots for seeing sea turtles, and hike some of the most fabulous trails in Hawaii. Actually, can I come on this trip with you? ; )

Frequently Asked Questions
Can I just find all of this info online for free?
You can find just about anything online these days! But it doesn't mean it will be much help. I'm not just giving you a list of tips and tricks. I'm laying out a full step-by step plan of what you should book and when (with loads of advice for picking the best options according to YOUR vacation style).
How long do I have access to this product?
How does lifetime access sound? After signing up, you have unlimited access to this information for as long as you like - across any and all devices you own. You'll also get access to any updates and bonuses I create in the future.
What if I am unhappy with my purchase?
I would never want you to be unhappy! If you are unsatisfied with your purchase, contact me in the first 30 days and I will give you a full refund.
Still not convinced? Here's what a few travelers have said: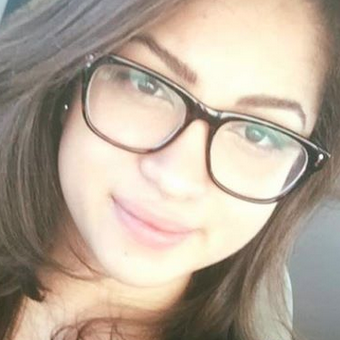 Since I started researching and planning my trip the excitement and stress has been overwhelming! There is just soooooo much information out on the interweb. The more I searched, the more questions I had. Do we want to island hop? What are must dos on our trip? Would we both enjoy the same activities? To Luau, or not to Luau? Volcano, or no volcano? Where to stay, what to do? Where to eat? ... you get the point. I want to make sure I plan a budget friendly, and adventure filled vacation, but I didn't know where to begin. Then I found your blog. It was so simply laid out for me. It answered so many of my questions, and eased my stress level. All of your posts have been so helpful. I'm only just starting to plan my trip, but I feel so much better about successfully planning a memorable trip thanks to your blog! - Lili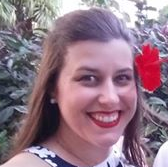 I was planning a trip to Kauai for Thanksgiving with my boyfriend and it was going to be a new island to explore for the both of us. In doing some research, I came across your blog. I really enjoyed reading your posts about where to eat. We tried Tidepools, the Hukilau Lanai, Tahiti Nui, and the Lava Lava Beach Club. All great! We had booked our reservation at the Kauai Shores, and I was regretting choosing that one over its sister hotel a little further south. But then I saw that you had stayed there, and you allayed my fears when I asked you about it, and you said it was fantastic. It was! We loved it, the people, and the location right on the beach. Last, but not least, I was on the fence about doing a helicopter tour of the island. However, after reading your post (and seeing your pictures!), I was SOLD! And I'm so glad we did! It was truly the highlight of the trip, and I'm thankful for your review in pushing me to do it.So thanks for all the timely info! It was very helpful, and got me that much more excited for our trip! - Andrea

You've got two choices here...

You could keep trying to figure all of this out on your own (insert hair pulling, tears, and questioning your every decision!)
OR...
You can borrow my strategies and be well on your way to planning the perfect trip to Hawaii. Mai tai anyone?