Oahu
Honeymoon Itinerary: This 6-day itinerary still covers most of Oahu, but is tailored to couples on their honeymoon, anniversary, celebrating a special occasion, or for those interested in a "once in a lifetime" vacation. It includes a lot of relaxing beach time or time at your resort, more low key activities like a spa day, and fine(r) dining.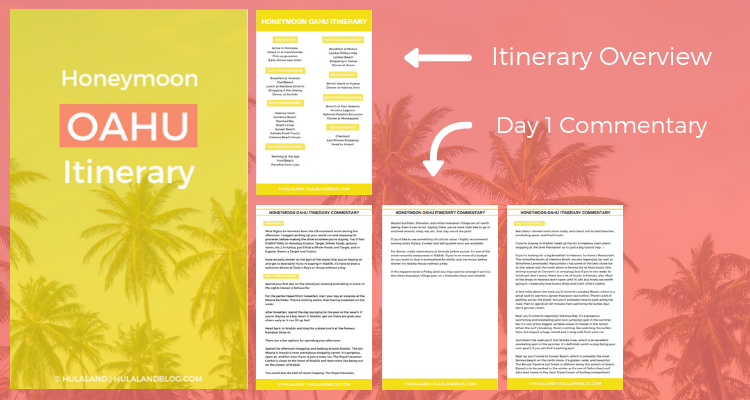 Oahu Adventure Itinerary: This 6-day itinerary was created for those who just can't sit still and prefer to be out exploring instead of lounging around. It includes plenty of hiking, snorkeling, and some of Oahu's best (and most exciting) day trips.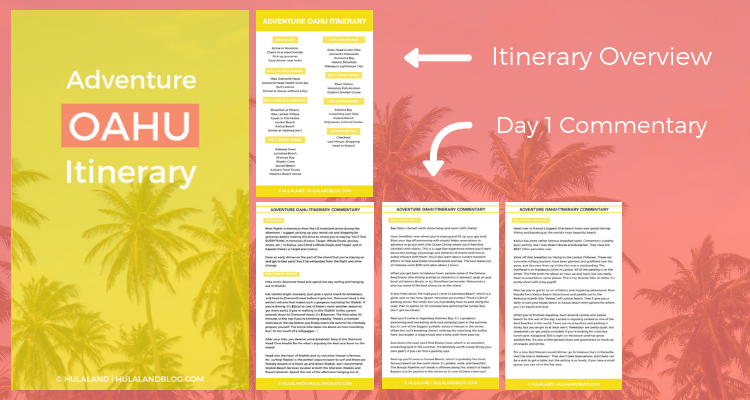 Oahu Foodie Itinerary: This itinerary follows the classic 6-day Oahu itinerary but includes SO MANY FOOD RECOMMENDATIONS. So if you're a self proclaimed foodie (or you just really like to live it up on vacation), this one is for you!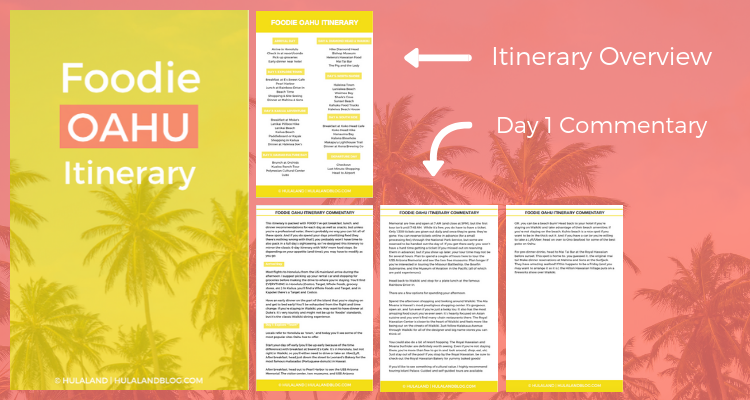 Less or More Than 6 Days on Oahu: If you're shorter on time (maybe you're island hopping?), I've laid out the absolute "must dos" on Oahu as well as some other advice for how to pick and choose from the 6-day itinerary. Also, if your trip is longer than 6 days (lucky duck!) I've got plenty of suggestions for how to stretch out the classic 6-day itinerary including where to spend more time plus extra things to do.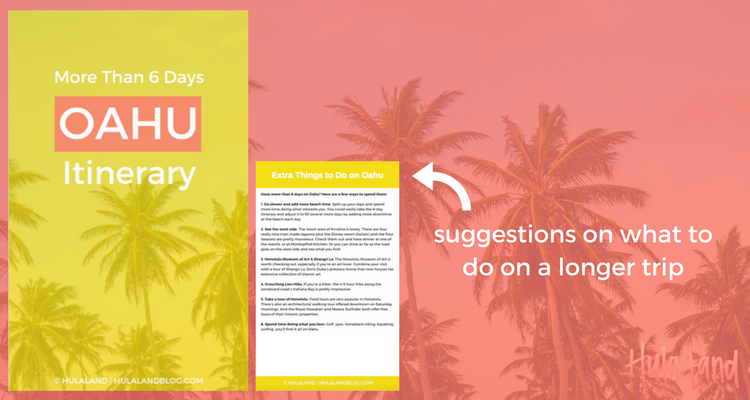 Custom Google Maps: I've made custom Google Maps that go along with each itinerary. Each day's activities and spots are color coded and layered so you can look at your whole trip or just one day at a time. Google Maps are perfect for driving directions. Download it to your phone before you leave and share it with everyone you're traveling with.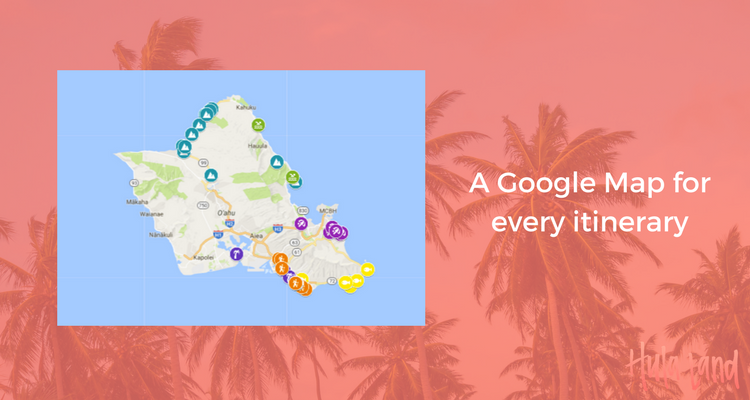 Building Your Own Itinerary: If you want to go the DIY route, I've got tips for how to maximize your time and organize your activities by day. You'll also get a PDF of things to do on Oahu sorted into categories (snorkeling spots, beaches, tours/activities, and sites) as well as a list of my favorite restaurants sorted by each part of the island. Use this list as a starting point and add things that interest you to your itinerary.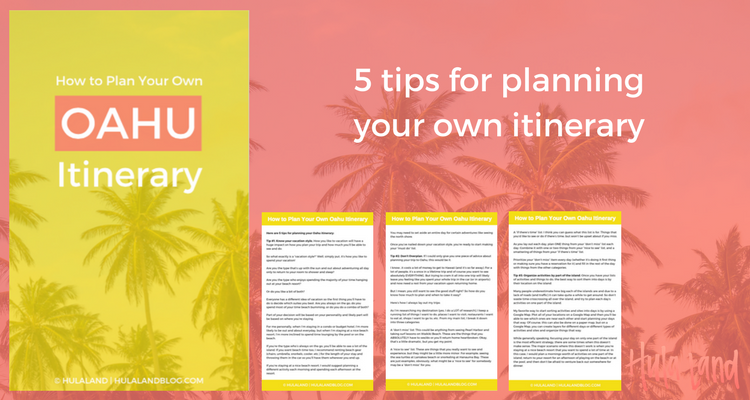 How to Make Your Own Google Map: You'll get access to printable directions (with screenshots) on how to make your own Google Map of your itinerary.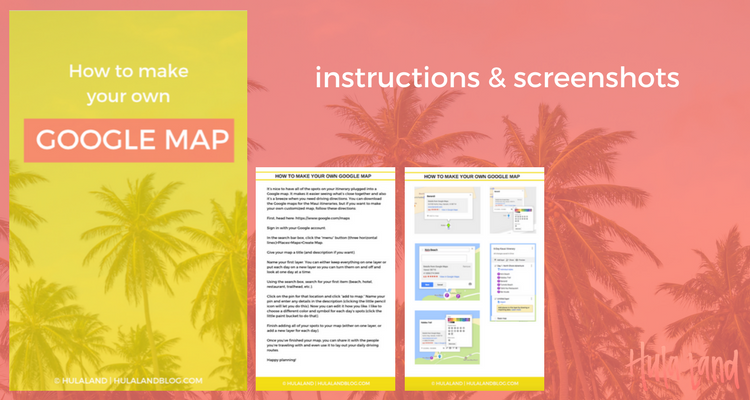 Customizable Itinerary Template:
You'll get a printable blank itinerary template with space for planning up to 16 days. Use it to plan out your trip and keep track of everything you want to see.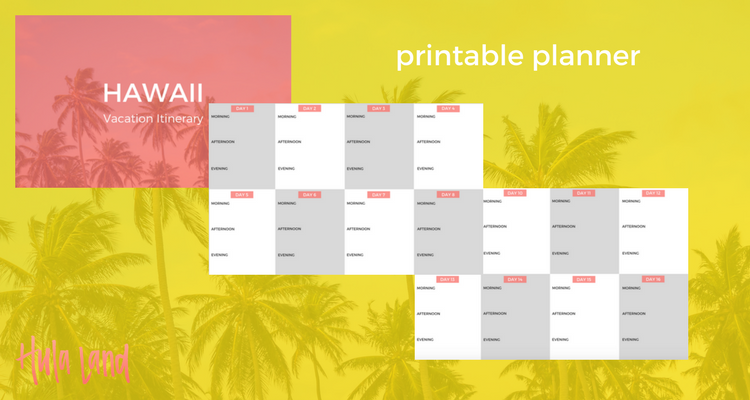 Access to my private Facebook group: If you haven't already, you'll be able to join my private Facebook group where myself (and so many others) are always on hand to answer any of your questions about traveling to Oahu.